Sky Bet are a well known online gambling company that have a strong reputation with both experienced and novice bettors. Having been established in 2000, they have a lot of experience with online betting. They are also famous for their generous offers, one of which is Sky Bet Best Odds Guaranteed on all UK and Irish horse racing, every day. This offer has become a favourite of online bettors due to how simple it is to claim. Nothing outside of placing a bet within the terms of the offer actually needs to be done.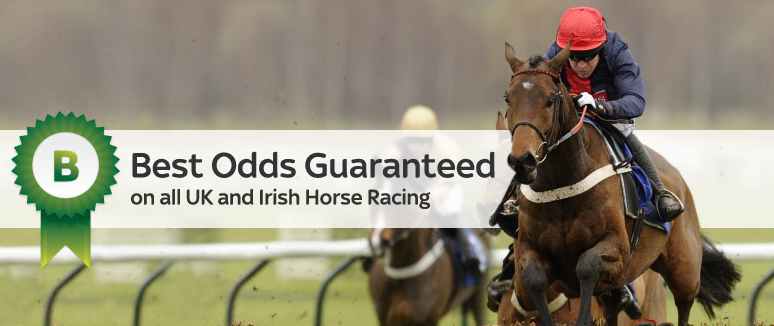 Join as Premium Member for only £1
Join Now
If you are unfamiliar with Best Odds Guaranteed, it can be explained like this: if you have taken a price on a horse and the Starting Price (SP) for the selection ends up being bigger, Sky Bet guarantee they will pay you out at the bigger odds. If the Starting Price shortens, there is no need to worry as in that case Sky Bet would give you your early odds price. Whichever price is better out of the Starting Price and the price you took, that's what you'll be given. As an example, if you were to place £10 on Picture Painter to win a race at Hamilton with odds of 10.0, your returns would be £100. Though, if the Starting Price had drifted to 10.5, due to the Best Odds Guaranteed offer your return would be £105 instead. You would thus be £5 better off with no extra work.
The offer applies to all single, multiple and each-way bets on all UK and Irish races, every day. They even offer Best Odds Guaranteed on their price boosts, which sets them apart from some of their competitors. However, the offer does not apply to ante post bets, bets on international racing (unless stated otherwise), enhanced accumulators, tote pools or any other special markets. Any customers that bet via the Bet2go (cellectivity) mobile app will not be eligible for Best Odds Guaranteed. If you often bet with large sums of money, please be aware that the maximum increase per bet or per race for this offer is £50,000 for horse racing.
When using matched betting techniques, the Sky Bet Best Odds Guaranteed offer adds extra value. You could use the no deposit £10 free bet for signing up with Sky Bet in order to potentially win more, should the bookmaker bet win. For example, if you used the £10 Sky Bet free bet to back Fortunes Pearl to win at Chepstow with odds of 9.0 and laid £8.47 at lay odds of 9.5, your profit would be £8 with a bookmaker win. However, if the Starting Price had drifted to 9.5, your profit if the Sky Bet selection won would be raised to £13 thanks to Best Odds Guaranteed. Even with a slight change in the odds, you would come out with an extra £5.
Try Matchedbets.com for 14 days for only £1
Join Now