Win Only Dutching Calculator
The 'Win Only Dutching Calculator' can be used to determine the ideal stakes when covering multiple selections on an event.
You can either use this tool with a pre-populated race from the horse racing list or enter your own selections for horse races, football matches, tennis matches and more.
Using the dutching calculator
If you are dutching an event which isn't in the horse racing list, a football match for example, you need to add a selection for each possible outcome. For a football match, we would add three selections for the home win, draw and away win. You can add a selection by clicking on the blue '+' button.
There are several other fields to populate, including:
Total Desired Stakes – The combined stake across all of your selections
Rounding Level – This rounds each of your stakes to the value which is entered. For example, entering '1' rounds all stakes to the nearest £1. Entering '0.1' rounds all stakes to the nearest 10p and so on. It may look strange to bookmakers if you are placing a bet for an odd amount such as £35.47 and so placing £35.50 or £35 may be a better option which this feature helps with. You will notice that the profit for each selection may not be the same if you have rounded your stakes. If you wish to return the same profit regardless of the outcome, you will need to enter 0.01 which will use the exact stakes.
Odds – Enter the odds for each selection from the bookmaker which you are using for that selection
Actual Stake – If you bet an amount which is not the same as the 'Advised Stake', you can enter it into this field. You may do this if you round stakes for that particular bet.
BOG – If 'Best Odds Guaranteed' is applied and one or more of your selections goes off at a higher price, you can enter it here and it will update your position.
SNR – Check this box if you are using a free bet where the stake isn't included in the returns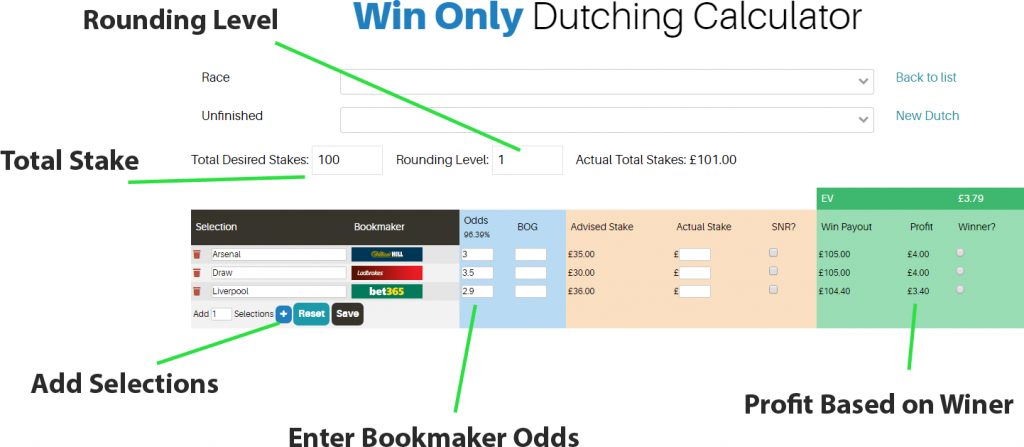 Once you have entered these details, the calculator will display the returns and the individual profit should each selection win along with the overall EV.
You can save the data by clicking on the 'Save' button and come back to it after the event has finished.
You can then mark one of the selections as a winner which will update your profit total within your account.
Loading a race from the horse racing list
You can load races featured in the horse racing list into the dutching calculator by clicking on the arrow button in the 'Win Overround' column on the right. This will open the dutching calculator and load the data for each horse in the race.
[ewd]