Cheltenham Festival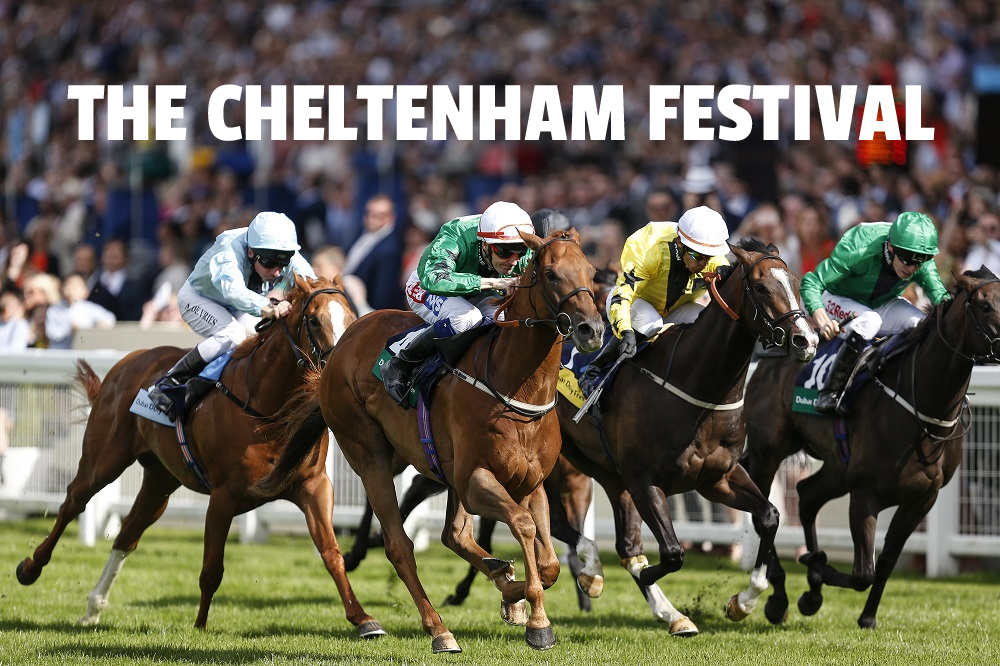 Cheltenham festival features a host of top jockeys, trainers and horses and is one of the highlights of the UK sporting calendar. The festival features 28 races which have combined prize money of over £4.5 million and includes featured races such as the Champion Hurdle, Champion Chase and Gold Cup. Over 200,000 people attend the festival each year and an estimated half a billion pounds are bet across the races by punters.
In this Cheltenham Festival guide, we'll be taking a look at what the Cheltenham Festival is all about, how it started and a few handy tips if you are considering attending.
When Is The 2021 Cheltenham Festival?
The 2021 Cheltenham Festival takes place from Tuesday 16th to Friday 19th March and usually coincides with St Patrick's Day which makes it an extremely popular event with Irish visitors. The festival is held at Cheltenham Racecourse in Gloucestershire.
What Races Take Place At The Cheltenham Festival?
Over the four days of racing at the Cheltenham Festival, there are a total of 28 races with 7 taking place each day. Some of the stand-out races include the Champion Hurdle, the Champion Chase, the Stayers' Hurdle and of course, the Cheltenham Gold Cup which takes place on the final day of the festival at 15:30.
History Of The Cheltenham Festival
The Cheltenham Festival dates back to 1860 when it was named the Grand National Hunt Meeting and was held at Market Harborough originally. Since then, the festival has had many different locations including Warwick Racecourse. After a couple of stints back and forth between Cheltenham and Warwick, it was officially moved to Prestbury Park, Cheltenham in 1911 where it has taken place every year since with the exception of in 2001 when the festival was cancelled due to foot and mouth disease.
Originally, the festival had been held over just 3 days until a 4th day was added in 2005 with new races being added to allow for 7 races on each day.
Cheltenham Festival Live Streams & Televised Races
UK viewers will be able to watch races at the Cheltenham Festival live on ITV. Usually, the first 5 races are televised each day which only leaves the 16:50 and 17:30 races uncovered. However, many online bookmakers allow customers to stream Cheltenham races live through their betting accounts. Access to the Cheltenham live streams usually requires you to have placed a bet of around 50p or more on the race you wish to watch but it depends on the bookmaker.
One bookmaker which offers live streaming of races at Cheltenham Festival is Betfair.
Cheltenham Festival Betting
Cheltenham Festival is one of the busiest times of the year for bookmakers with projections of around £500 million to be placed in bets over the 4 days of racing. There are a total of 28 races to bet on giving an average of around £17,850,000 bet on each race. Punters at the Festival and around the country betting online jump on early ante-post markets and last minute bets. The rise of mobile betting in recently years has given bookmakers a new way to connect with customers and now it's easier than ever to place a bet wherever you are.
With so much money involved in betting on races at Cheltenham, bookies fight for customers in the run-up and during the festival. One way bookies entice customers to bet with them over a competitor is to run special promotions for the races. These can be in the form of free bet offers, money back specials, extra places, best odds guaranteed and more. Punters looking for the best value in their bets should take advantage of these enhanced offers while they are around as they can result in increased returns and minimised losses.
Several bookmakers run enhanced offers throughout Cheltenham with some of the more popular ones being Betfair, SkyBet, Ladbrokes, Coral and Betfred.
Cheltenham Festival Tickets
Thinking of going to the festival? You'll need a ticket! Tickets to the Cheltenham Festival can be purchased online from thejockeyclub.co.uk. Tickets usually start at an affordable £37 and go up to thousands of pounds if you want the luxury packages. There are a number of ticket packages available, the more affordable ones usually just include entry and access to certain areas of the racecourse whereas the more expensive packages can include meals and drinks at various restaurants and bars, access to exclusive lounges and private boxes.
Whichever Cheltenham ticket package you choose, you can be guaranteed a day of excitement and an atmosphere like no other.
Cheltenham Festival Food & Drink
There are several dining & hospitality packages available for the Cheltenham Festival which include meals and drinks at the Pan Asian restaurant, the Horse and Groom Pub, private pods in The Orchard or if you really want to do the festival in style, private boxes are available.
For those with standard tickets or want to catch a bite or a drink when exploring the racecourse, you'll be pleased to know that there are dozens of bars, restaurants and food stalls to take advantage of. Everything from sandwiches, pizzas, fish & chips to tapas and oysters are available to those feeling peckish. While those who are thirsty can enjoy one of the 265,000 pints of Guinness which are served at the festival or take a trip to Big Buck's Champagne Bar for, well…Champagne. They even sell 'the Methuselah' which is a Champagne bottle the size of 8 standard bottles! Perfect for splashing out when you have a big (very big) win!
Cheltenham Festival Transport
In excess of 70,000 people attend Cheltenham Racecourse on any one day during the festival and over 260,000 over the four days. Therefore, you should expect Cheltenham town and it's surroundings to be extremely busy throughout the week. For those not residing in Cheltenham, thankfully transport links are excellent.
Train Stations: Train travel is the choice of many attending the Cheltenham Festival and thankfully Cheltenham Spa station, which is on the Bristol-Birmingham main line, isn't a million miles away from the racecourse. Once you're off the train in Cheltenham, the racecourse is a short taxi or bus ride away. If you're feeling fit, you can walk it which takes roughly 40 minutes.
Airports: If you are planning on flying into Cheltenham, the nearest major airports are Birmingham and Bristol which are both just over 40 miles away from Cheltenham.
Busses: As well as major bus services such as Megabus and National Express which both go to Cheltenham from various locations, there is a racecourse bus which transports people from Cheltenham High Street to Cheltenham Racecourse which is perfect when there are long taxi ques or when you want a couple of pre-festival drinks in Cheltenham town centre.
Taxis: As expected, there is an increased number of taxi's operating during the festival. However, they do charge a higher rate over the four days compared to normal so keep that in mind if you were expecting the same rate you got another time in the year. A quick Google search will bring up a number of taxi firms but it's a lot easier to flag one down in the street when you're there.
Cheltenham Festival Accommodation
Thankfully, for those looking to stay over before or after a day of racing, Cheltenham is home to a number of hotels and B&B's. The easiest way to find these hotels is through sites like booking.com but be warned that prices increase dramatically on festival dates and the longer you leave it, the more you're likely to pay. Be sure to book up as soon as possible when you have decided you're going to the festival.
Cheltenham Festival Races
There are a total of 28 races which take place at the Cheltenham Festival each year with 7 races taking place each day. You can view the races for the 2020 Cheltenham Festival below. Click on a race to view more information such as the race history, past winners, betting offers and more.
Day 1 (Tuesday 16th March 2021)
Day 2 (Wednesday 17th March 2021)
Day 3 (Thursday 18th March 2021)
Day 4 (Friday 19th March 2021)