Sky Bet Club is a loyalty scheme from online bookmaker Sky Bet. Customers can earn a £5 free bet each week that they wager £25 or more on sports betting markets with odds of Evens (2.0) or greater. The Sky Bet free bet club requires the qualifying criteria to be met each week to continually receive the free bet bonus.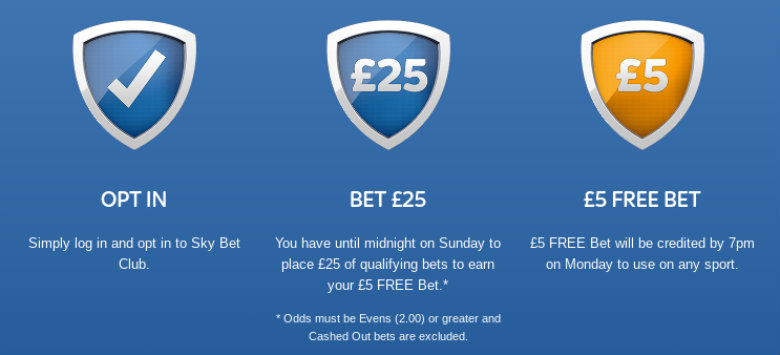 The prospect of picking up a weekly £5 free bet makes this offer perfect for matched betting. Taking into consideration qualifying losses and free bet retention, Sky Bet Club is typically worth a £4 expected profit each week. That's over £200 per year which is a significant boost to annual earnings from matched betting.
Make £50 from a free trial with Matchedbets.com
Join Now
So long as you continue to meet the qualifying criteria, the matched betting technique will enable you to make an expected cash profit. Sky Bet's Price Boosts make for ideal qualifying selections and can often result in negligible qualifying losses, further enhancing the offer's value. MatchedBets.com provides premium members with accurate instructions and the necessary technique to extract a profit from the Sky Bet Club promotion and other similar offers.
As Sky Bet run numerous other promotions, taking part in any of these can often mean that you qualify for Sky Bet Club automatically. For example; placing a bet of £25 or more on a horse race with a money back special will be sufficient, as long as the minimum odds have been met.
You must opt-in to qualify for Sky Bet Club. Then simply stake a minimum of £25, either cumulatively or as a single bet between Monday and Sunday. The bets must be placed on sports and at odds of Evens (2.0) or greater to qualify. Any cashed out bets will not be counted as qualifying bets. Tote Pool bets and Forecast/Tricast bets are excluded.

If you meet the qualifying criteria by 23:59 (UK Time) on Sunday, you will be credited with a £5 free bet by 19:00 on the following Monday. The free bet can be used from the moment it is issued, until 23:59:59 on the following Sunday after being credited. Any returns from your free bet will be paid minus the value of the free bet stake.
Should you fail to qualify for a single week, you will remain opted into the promotion during the following week but will not receive a free bet for the week that you missed. If you miss a second week, you will no longer be eligible to receive a free bet, until you have opted back in. Once you have opted back in, simply place a bet or bets totalling £25 at odds of Evens (2.0) or greater before 23:59 on Sunday each week during the promotional period.
You can use any platform to place qualifying bets and use your free bets. This includes Sky Bet online betting site, Sky Bet Mobile and Sky Bet apps. The bookmaker will notify you of any changes to the offer, as well as stating amendments on the promotion page.
Sky Bet Club is a popular matched betting offer and is just one of many promotions that is helping MatchedBets.com premium members bring in regular expected profits. Premium membership gives full access to advanced matched betting tools, concise offer guides and excellent customer support.
Try Matchedbets.com for free and make £50
Join Now