TLCBet have had a lot of success in the Asian market and this is now being replicated around the world. Though there are not too many special promotions on the site, one they do list is Best Odds Guaranteed on all UK and Irish horse racing. This is a particularly appealing offer for 2 reasons: how much value it can add and how easy it is to claim. You don't need to opt-in, once you have placed a bet withing the terms, you will have qualified for the promotion.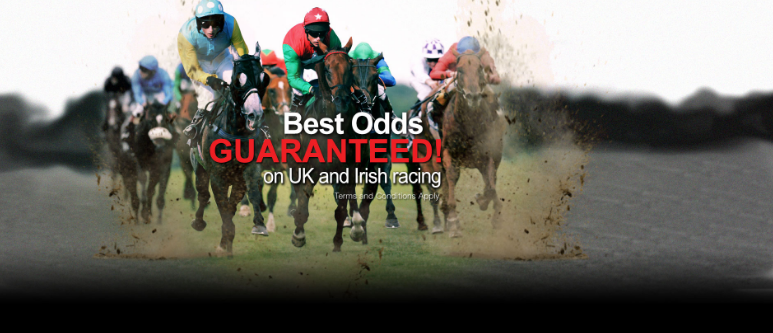 Claim TLCBet Betting Offers
Join as Premium Member for only £1
Join Now
Best Odds Guaranteed means that when you take an early or show price on a horse running in the UK or Ireland and the Starting Price (SP) ends up being bigger, TLCBet will pay you out at the bigger odds. You can't lose out by taking an early price, as if the Starting Price was to shorten, you would be paid at the earlier price you took. As an example of how Best Odds Guaranteed works, say you placed a £20 bet on the horse Forest Ranger to win at Newmarket with odds of 9.00, your returns would be £180 if the horse wins. However, if the SP returned at 9.50, your returns would instead be £190. In this case, the offer has given you an extra £10 in your account with no extra work on your part.
In order to qualify for the Best Odds Guaranteed offer, you must be aware of the terms and conditions. The offer does apply to both single and combo bets at early and board prices, and the bet must be placed after 9am on the day of the applicable race. However, the offer does not apply to bets placed at Ante-Post odds, Tote bets or bets on international racing unless stated otherwise on the website. If a Rule 4 was to occur, TLCBet will pay out at the bigger odds after the Rule 4 deduction has been applied. If you are placing large stakes with this offer, the maximum bonus for any one customer on a particular selection is £1000.
From a matched betting perspective, we are limited by the fact that the only free bet opportunity on the site at the time of writing states in its terms that it cannot be used on horse racing bets. Thus, our best option to profit by using matched betting is finding or creating an arb situation, where the back odds end up greater than the lay odds. As an example, say we found the selection Pats Pearl that had back and lay odds of 5.00. If we placed a £20 back bet at the bookmaker and laid £20.20 at the exchange, we would lose £0.80 if the horse won. If the SP had drifted to 5.50 though, we would instead profit £9.20 with a win at the bookmaker. This is a risk, as if the SP did not end up greater than the price you took, you would lose a small amount. At MatchedBets.com, we list over 50 new customer offers which you can guarantee profit from, thanks to our step by step guides.
Try Matchedbets.com for 14 days for only £1
Join Now